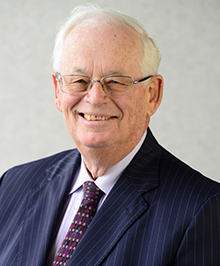 EDUCATION
B.S., Long Island University

M.S., Long Island University

J.D., St. John's University School of Law
ADMISSIONS
New York State Bar, 1977
U.S. Supreme Court, 1986
CONTACT INFORMATION

V-Card
Herbert Kramer is a graduate of Long Island University in New York. He was awarded a Bachelor of Science Degree in Biology in 1963. He additionally earned a Master Degree in Biology with a thesis in Genetics in 1967, also from Long Island University. Mr. Kramer received his Juris Doctor Degree from St. Johns University School of Law in New York in 1977. He is admitted to the practice of law before all of the courts of New York State as well as before the Supreme Court of the United States of America.
Mr. Kramer is one of the founding partners of Feldman, Kramer & Monaco, P.C. which was founded in 1982. The firm provides legal services to some of the most prestigious unions in the State of New York, including the New York State United Teachers, the Public Employee Federation, The United Teachers Federation of New York City, The Teamsters, Patrolman's Benevolent Associations and other public and private union organizations. Mr. Kramer has limited his practice to Real Estate Law, Wills and Trusts, Estate Planning and Elder Law.
Mr. Kramer has lectured on numerous occasions on the subject of Wills, Trusts, Planning for Retirement, the use of Trusts to Plan Ones Estate, Elder Law Planning and other related topics. He has written a vast quantity of articles on those subjects as well: "Real Estate Contracts", "Sale of Real Estate", "What to expect at a House Closing", "Planning for Retirement", "Wills and Trusts", "How to avoid Probate", "Methods of reducing Estate Taxations", "Planning for the Care of a Disabled Child" and numerous other articles.
Mr. Kramer received two National Science Foundation Awards for the study of Chemistry, one in Organic Chemistry at Capital University in Columbus, Ohio and the other in Biochemistry at Simmons College in Boston, Massachusetts.
Mr. Kramer is married to Joan Kramer, a classically trained Pianist and Music Teacher for over fifty years. They are the parents of two children, both of whom are attorneys. His son, Steven, works with his father and has limited his practice to Elder Law. His daughter, Kim is an attorney working with the Environmental Protection Agency of the United States where she enforces the clean Water Act.