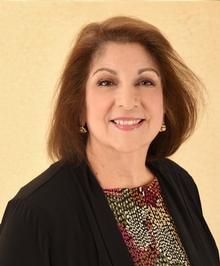 EDUCATION
B.A., Montclair State University, Spanish and Italian

M.A., Montclair State University, Spanish Language and Literature

J.D., St. John's University School of Law, 1987
ADMISSIONS
Anita Y. Aginian
Senior Associate
CONTACT INFORMATION

V-Card
Anita graduated from Montclair State University with a BA in Spanish Language and Literature, Italian Language and Literature and Education. She then attended St. John's University School of Law.
After graduation in 1987 she became a staff attorney at Legal Aid. Anita also worked as a volunteer for Catholic Charities helping the Latino community with Immigration matters.

In 1990 Anita returned to Montclair State University as a full time professor of Legal Studies. Anita left that position to go into her own private law practice. She represented many clients in their criminal defense matters and real estate issues. She represented Nassau County as a Small Claims Assessment Hearing Officer. She also represented Columbia Federal Savings Bank as their loan closer.
In 2000 Anita joined Feldman Kramer and Monaco. In 2002 she became the Supervising Attorney. She has frequently spoken before large groups of legal plan members.

Anita is the Emergency Access attorney for the firm. She has received many awards for her service from LegalShield in that area. She has also received the Leadership Award for her service as a Supervising Attorney.

Anita is currently an Adjunct Professor in the Political Science Department at Stony Brook University. She teaches Business Law as well as Administrative Law for Policy Analysts.