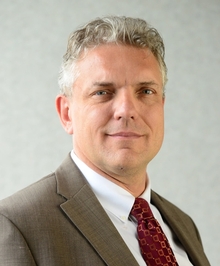 EDUCATION
B.A., Geneseo College, Music History and Theory, Psychology,

magna cum laude,

1990

J.D., Buffalo Law School, 1993

ADMISSIONS
New York Bar, 1994
U.S. District Court, Eastern District of New York
Daniel J. DeRosso
Senior Associate
CONTACT INFORMATION

V-Card
Daniel J. DeRosso, Esq. has been with Feldman Kramer and Monaco, P.C. since 1997. He practices in the real estate department handling residential and commercial closings, leases and refinances. He also handles business entity formations and business closings. He has closed over 3000 real estate transactions.
Daniel graduated from Sachem High School in Lake Ronkonkoma, NY in 1986. He was ranked third in his class of 1500 graduating seniors.
Daniel graduated from Geneseo College in 1990 with a B.A. in Music Theory (magna cum laude) where he studied under renowned classical composer Dr. James Willey, and a B.A. in Psychology (summa cum laude). Four of Daniel's classical compositions, String Quartet No. 1, Two Movements for String Quartet and Percussion Ensemble, Fast Tunes for Nine Cellos, and Concerto for Gong have been performed professionally. He studied viola at Geneseo with Linda Kirkwood of the Tremont String Quartet and Rochester Philharmonic Orchestra and piano with Dr. Joseph Deccario.
Daniel graduated from University of Buffalo Law School in 1993 with the degree of Juris Doctor and a Certificate of Concentration in State and Local Government Law. While in law school, he worked for the legal departments of the Town of Brookhaven and The Town of Tonawanda near Buffalo. Daniel received the award of "Best Oral Argument" at the 1992 Jessup International Moot Court Competition where his team finished third.
Daniel is the founder of the Shoreham Civic Organization and serves as counsel to the Shoreham Shore Club. He is a frequent contributor to the Preventive Law Guide.