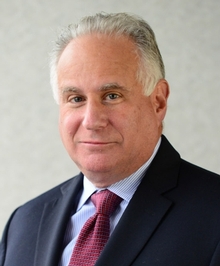 EDUCATION
B.A., State University of New York at Stony Brook, 1979

J.D., Brooklyn Law School, 1982
ADMISSIONS
New York State Bar, 1983
U.S. District Court, Eastern and Southern District of New York
David A. Pincus
Senior Associate
CONTACT INFORMATION

V-Card
David A. Pincus came to our firm at the end of 2011, after working for more than 15 years at the law firm of Schoenfeld, Schoenfeld & Pincus PC, where he and his firm focused almost exclusively on the practice of personal injury law. In 2014 he became the manager of our personal injury department. While managing the department, he continues to handle a full caseload that includes significant and complex cases. David has successfully litigated a number of high value cases including one recent case where he recovered 2.35 million dollars for an injured worker.
David is a graduate of Brooklyn Law School (1982) and the State University of New York at Stony Brook (1979). In 1983, David was admitted to practice in the State of New York and in the United States District Courts for the Eastern and Southern districts of New York. He is a member of the New York State Trial Lawyers Association and the Suffolk County Bar Association. He has lectured on legal issues particularly those concerning the practice of personal injury law.

David became a lawyer because of his intense drive to achieve justice for clients and to protect their legal rights. He believes that the practice of personal injury law gives him a unique opportunity to help regular people win litigating against powerful business adversaries. That experience combined with a love of the law and a keen talent for factual and legal analysis serves him well in achieving strong results for his clients.

The desire to make this world a better place led David and his wife Ruthie to form a not for profit corporation called Stage the Change, Inc., which hosts an annual conference at the Tilles Center that brings together hundreds of students, teachers and theater professionals from all over Long Island and New York City to hear speakers and attend workshops on creating theater relevant to social and human rights issues. Recently, David was chosen to be part of a delegation organized through an organization called Witness for Peace that traveled to Oaxaca, Mexico to learn about roots of immigration to the United States.

Outside of the law, David's many interests include, sailing, tennis, the arts, skiing and hiking. He just celebrated his 30th wedding anniversary and has three adult children, Sadie who teaches music at an elementary school in Williamsburg, Brooklyn and twin boys Jacob and Simon who are pursuing theater careers in New York City.