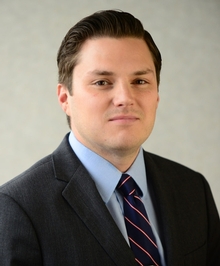 SPECIALTIES
Personal Injury
EDUCATION
J.D., Touro Law Center, 2009

B.A., Stony Brook University
ADMISSIONS
CONTACT INFORMATION

V-Card
Eric Sandman attended Stony Brook University from 2001 - 2005, where he graduated with a Bachelor of Arts degree in Political Science. In the winter of 2004, he entered the Suffolk County Advanced Emergency Medical Technician program, where he received his New York State Advanced Emergency Medical Technician Critical Care certification. From 2001 - 2006, he continued to volunteer for the Mastic Ambulance company.
Mr. Sandman worked as an emergency First Responder for multiple fire departments throughout Suffolk County from 2004 - 2010. He worked full time, as an emergency First Responder for the Wading River Fire Department 2005 - 2006.

While attending Touro Law School as a full-time student, Mr. Sandman continued to work part-time as an emergency First Responder for East Quogue and Middle Island Fire Departments.

During law school, Mr. Sandman received a CALI award for academic excellence in Civil
Procedure II and participated in the Civil Practice and Judicial Externship programs. He interned at the law office of Todd J. Zimmer & Associates, a matrimonial law firm in Commack, New York as well as the Suffolk County District Attorney's office. He also clerked for the Honorable Thomas F. Whelan in the New York Supreme Court from 2008 - 2009.

After graduating from Touro Law, Eric was admitted to practice law in New York, January 2010 and began working for Sarisohn Law Partners in Commack, New York, where he focused on personal injury and accident claims. Mr. Sandman joined the Personal Injury Department at Feldman, Kramer & Monaco, P.C. in December 2015.