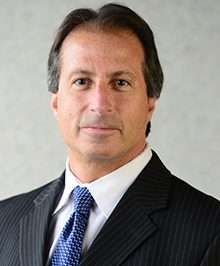 EDUCATION
J.D., Hofstra University, 1988
ADMISSIONS
New York Bar Association 1989
William J. Monaco
Partner
CONTACT INFORMATION

V-Card
William Monaco received his undergraduate degree from the State University of New York at Oswego having also been educated at the State University of New York at Stony Brook and the University of Tampa in Florida. He received his Juris Doctorate Degree in 1988 from Hofstra University School of Law and was admitted to practice law in 1989.
Right out of law school, Bill sought meaningful legal work with a firm on Long Island that was aligned with his own values and beliefs. He joined the firm, run at the time by his current partners Warren Feldman and Herbert Kramer, because he identified with the firm's culture, core values and mission to bring top quality legal services to thousands of people who otherwise would be denied its access.

Bill found the legal plan concept to be intriguing and extremely rewarding in practice. He has since devoted his professional career to enhancing this concept.

He began his career developing legal skills in several areas including Civil Litigation, Family Law, Real Estate, Corporate Law, Bankruptcy and Criminal Law. Before long, he was in charge of the litigation department of the firm and he became a partner in 1997. He currently manages the day to day operations of the firm. He has lectured on a variety of legal topics and has represented individuals and businesses alike in many cases, some of which have achieved national prominence. Current and past clients include major Long Island Commercial and Residential Contractors and Developers, Multi unit National Restaurant Franchise groups, Gas Franchise groups, Marinas and Retail Establishment groups as well as individuals and their families.

Bill is married and a father to one son. He is active in his community and believes strongly in the responsibility to give back through support of charities and pro bono work.

Among many other personal pursuits, he is an avid boater, skier, scuba diver and student of martial arts.